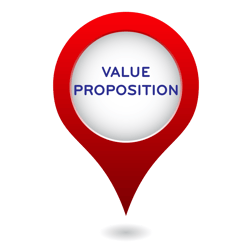 Communicating a Value Proposition that Resonates
All companies have a value proposition, but many make the mistake of creating a value proposition that doesn't work very well for customers. How does this happen? Companies become internally focused and create value propositions centered around their own goals and priorities, not on their customers' needs.
It's easy to do because the phrase "value proposition" is pervasive in B2B marketing that the meaning can be diluted, misconstrued, or defined relative to the wrong audience (e.g. internally instead of externally). To avoid this trap, create a persuasive value proposition that addresses both the customers' needs and your ability to fulfill them.
A well-written, well-understood value proposition can earn you the opportunity to engage your customers in conversations about your company's solutions. It's worth taking the time to get it right.
Crafting Persuasive Customer Value Propositions
To develop a persuasive value proposition, consider your brand and positioning as well as your customers' values. Positioning yourself in the market is a process of establishing and sustaining brand specific messaging in target customers' minds. In order to understand your positioning, you should assess and define:
Target Customer Characteristics

Essential Attributes of your Company & Products / Services

Points of Difference & Relative Benefits

Social Proof

Delivery & Sales Channels
By defining these components of your value proposition, you will be able to create a value proposition that is also a conversation starter.
"ALL BENEFITS" Value Proposition
With this type of approach, the value proposition encompasses all benefits customers receive from a market offering whether it is a service or product. Creating this type of message and ensuring the sales force can deliver it requires a depth of knowledge about your products and services, and how they stack up to others. The question the value proposition must answer a useful customer question: "Why should you purchase our offerings instead of our competitors?"
When creating this type of value proposition, make sure you
Pinpoint benefits specific to the target market

Avoid benefits are points of parity

Understand how the customer perceives value

Enable & train the sales force to deliver the message
"TARGETED FOCUS" Value Proposition
A "targeted focus" value proposition communicates only one or two points-of-difference, but the magnitude of their importance delivers the greatest customer value over the long term. This type of value proposition is backed by robust expertise on your own market offering as well as the next-best-alternative offering, customers' preferences and requirements and the value of meeting these needs over the long-term. It is not enough to say "Our service drives efficiency". This is a generic claim that everyone can make and it offers no differentiation. When you create this value proposition, make sure you answer the most useful customer questions possible: "What is worthwhile for me to remember about your offering?"
With a "targeted focus" value proposition, it is critical to:
Gather data and provide substantiation of the value of your offering

Focus on two points-of-difference which are of the greatest value to the customer

Use case histories and testimonials to provide social proof of value
Get Sales Involved Early in the Process
Many times your greatest source for confirming those one or two points-of-difference comes directly from your sales or service team. Coordinate time for the two teams to come together for a bi-monthly Appreciative Inquiry Summit structured around a defined framework to share and explore words that work from a front line perspective. Once you combine and integrate data insights from marketing with the sales/service perspective you will reduce time to delivery on your value proposition and improve utilization from sales.
Additionally, now that you have regularly scheduled Sales & Marketing Summits you can then continue engagement with the sales team to test your new value propositions, get direct feedback, communicate how your sales people can participate in on-line and off-line testing, course-correct sooner, and continuously share data insights to take you through the next steps of brand building, community engagement and filling your pipeline with quality sales qualified leads.
The aim is to nurture a culture of trust between sales and marketing that will resonate outward through a powerful value proposition that sticks.
Quick Start to Creating Your Value Proposition
At the start of product or service development, determine which benefits will be superior and which will be at parity.

Get Sales involved in the process as early on as possible to make sure they have the sales tools they need to support the sale.

Create a path of quick wins

Test your value proposition with the salesforce and ask how they think competitors will reach.

Test the value proposition at each stage of development to make sure the value proposition is fulfilled.