Multi-screen users. Those working on their laptop, while they binge-watch the latest 5 part mini-series on a second screen while working and chatting in 3 different messaging apps on their mobile device.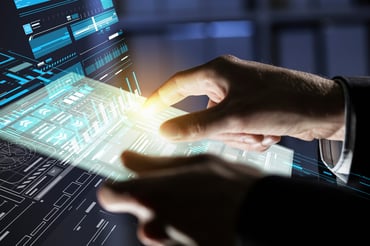 We know them, we are them, this is us. We are clever, we are resourceful and we are open, always on the move and connected to our own digital world. One that we each individually curate, organize and gate keep. And from all this activity flows a river of data; information that, as consumers, we expect will filter and deliver relevant information on our terms. Throughout all this openness and activity consumers look for brands to personalize experiences, stay current, be consistent and communicate value at all times.
Business leaders are increasingly expected to quantify and improve the contribution marketing brings to growth, profits and value. So now the question becomes, how do you activate the hearts and minds of consumers and stand out in a media consumption culture?
The winning combination for many leading marketing organizations has proven to be taking a data-driven creative approach to differentiate and improve customer experience.
Data-driven marketing campaigns use desired audience and customer data to inform and personalize creative campaigns content alongside look and feel to establish value and overcome objections for various audiences in different stages of the buying journey. Companies who consistently utilize data to inform their creative campaigns see faster time to revenue and increased return on investment.
In this post, we'll explain why taking the time to structure and plan a data-driven creative strategy enables higher performance metrics, what makes an effective data-driven creative campaign, and show an example of how our new creative studio partners at ShockMe worked to build and implement a powerful creative strategy enabling Jeep to exceed goals and expectations including: boost social mentions on digital 115% as well as increase positive mentions 86% with over 12 million impressions.
#1 Consumers expect brands to lead with personalized and authentic experiences
If not from you, then they will easily find it with your competitors instead. This means deeper more meaningful personalization is a requirement for businesses to compete today. Your content needs to inform for each stage of the buyers journey for each segment of audiences you address.
86% of consumers prefer an authentic and honest brand personality on social networks. (Smart Insights, 2017)
#2 Brand influencers have changed
Businesses no longer have the control they once did. The sales and marketing funnel is changing and customers are at the center. Their trust is shifting from businesses to friends, family and peers. It's about real people sharing their brand experiences.
81% of buyers trust their families' and friends' recommendations more than companies' business advice, and 55% report trusting the businesses they buy from less than they used to. 77% of consumers have shared positive experiences online.
#3 Data makes you agile and creativity puts you ahead of the game
In a Forrester Consulting study, experts shared that, "a combination of data and creativity is going to set the leaders apart from the laggards".
McKinsey found that one of the main benefits generated by creativity was speed. Firms that scored highest in creativity were ahead of the competition in part because they moved faster — in fact, 74% said they had to make decisions fast at some points, compared to only 40% of less successful firms.
#4 Data-driven campaigns will save you money, time and stress
Taking the time to build a deeper understanding of audience segments and then sharing data across teams with agreed upon outcomes eliminates confusion and improves consistency across all channels.
A recent survey by Content Marketing Institute and LinkedIn found:

68% of sales professionals say it's absolutely critical or very important to have a single view of the customer across departments/roles — yet only 17% of sales teams rate their single view of the customer capabilities as outstanding. - Salesforce
By focusing on personalizing for segments with data to creatively provide content that enhances conversations, increases brand awareness and trust, it puts your brand at top of mind when customers are looking to make a purchase. Additionally, it will reduce the time and effort sales teams waste to build their own sales communications tools.
McKinsey reports "The most creative companies employ two particular practices more than other firms: they regularly observe customers in the customers' own environments, and they understand the problems customers are seeking to solve through use of their products and services. Creative firms combine insights gained about customers' needs with technologies and new business models to come up with white-space solutions and distinctive marketing campaigns."
Data is the modern brand and marketing director's goldmine, bread, butter, water, and oxygen, yet between 80 and 90% of all data generation is unstructured! Tapping into and using that data to direct brand growth or build a marketing campaign is like strapping a rocket booster to a bicycle; it'll be fast, but it's only half the equation.
You must find unique and creative ways to respond to the data for success. Creativity and hard data aren't opposite forces but two sides to the same coin. Discover how they can create the best marketing campaign next.
Define Outcomes
Speed to market is a concept spoken of favorably in the supply chain and product development disciplines, but it also fits perfectly into marketing management. The quicker you can get your message out, the longer it'll be in front of people, and the higher the chance of successful conversions.
Defining your outcomes is vital in data-driven marketing because it gives your data analysts a starting point to start digging through available data. The quicker they can feed their insights back to you, the faster you can get your marketing campaign put together.
Shell's Global Head of Integrated Brand and Communications, Americo Campos Silva, argues that the way to merge data and creativity effectively is to focus on outcomes first, rather than data first: "Keep your objectives in the centre of your thinking – and surround those objectives with insights that are related, not random pieces of data." This approach won't just give creatives a manageable set of insights to work with – it also prompts you to think creatively about how exactly data can add value. Rather than amassing insight for its own sake, you're pulling together information that gives you different perspectives on a particular creative challenge.
Use Technology
AI and other tools make data analysis far more manageable, but your tech use should extend well beyond that. Using software like HubSpot or Salesforce can optimize the admin side of running your business.
Optimized and automated admin leaves you more time to think creatively. You need your creative thinking because your campaign will have to appeal to real human beings.
There's a lot to say about which is better in the HubSpot vs. Salesforce debate. The best tool is always that which compliments your team's strengths. Remember this when shopping for tools, as your business may need something entirely different from these examples.
Make Your Campaign Human
Your entrepreneurial vision has given you a product you wish to share with the world, and the data has shown you what the world needs or wants. The culmination of your data-driven campaign is building the bridge between these two points.
The creative foundation of all marketing solutions is engaging your audience well. You need to speak to them precisely the language they want to hear. Write well-written blog posts if your audience likes reading or engaging and funny tutorial videos if you sell a complex machine.
The same rule applies to brand management but has one crucial extra feature: you must consider the human reaction to sudden change. Sudden change is intriguing but can give loyal customers a sense of whiplash. Balancing these factors can supercharge your campaign's success.
Pivoting Your Branding or Marketing Campaign
One of your initial outcomes may have been to set forth on either a marketing campaign or a brand-building expedition. However, the data may reveal that you need to change course.
Let's say you wanted to market a particular product. Then, behavioral insights revealed that building consumer trust in your brand would be better.
Now you need to shift from looking for marketing strategies to branding tips. It also changes your need for brand vs. marketing services. It's just as vital to have this flexibility before starting your campaign so that it's easier to head in the direction the data is pointing.
Build a deep target profile to open doors
Keep it simple and go deep to fully understand and delight your targeted audience. Be curious and take a deeper dive into how consumers experience your brand to solve problems. Beyond online data take an open-minded look from your customer service and sales standpoint. Don't be afraid to make deeper inquiries on customers who work with competitors to understand why, identify where strong ties lie, and uncover weaknesses.
61% of high-performing marketers have developed a single view of the customer by unifying data from many touch points, channels and media interactions into an individual customer profile. Forbes
Involve creative agencies early
Strategy and creative need to operate as coexisting partners in order to achieve the best outcome. Engaging a creative team alongside clearly defined goals early can help you in the following ways:
Help surface unmet needs of the people you are creating for
Inspire you to think differently
Explore new solutions to old problems
Reduce the risk associated with launching new ideas
Generate solutions that are revolutionary, not just incremental
Help your organization learn faster
Anticipate tactical solutions
Collaborate throughout
Start by establishing aligned incentives & maintain consistent internal communications throughout the process. Structure with outcomes and customer experiences.
McKinsey article states "While the most creative companies move quickly, they also do so with rigor, by defining specific deliverables as opposed to vague goals, and making clear who is accountable for delivering and when. Almost three-quarters of companies with top-quartile ACS scores have "clear goals" and "regularly track and report" against these goals versus only 40 percent for firms with lower ACS scores.