Multi-screen users. Those working on their laptop, while they binge-watch the latest 5 part mini-series on a second screen while working and chatting in 3 different messaging apps on their mobile device.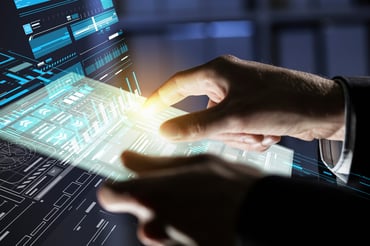 We know them, we are them, this is us. We are clever, we are resourceful and we are open, always on the move and connected to our own digital world. One that we each individually curate, organize and gate keep. And from all this activity flows a river of data; information that, as consumers, we expect will filter and deliver relevant information on our terms. Throughout all this openness and activity consumers look for brands to personalize experiences, stay current, be consistent and communicate value at all times.
Business leaders are increasingly expected to quantify and improve the contribution marketing brings to growth, profits and value. So now the question becomes, how do you activate the hearts and minds of consumers and stand out in a media consumption culture?
The winning combination for many leading marketing organizations has proven to be taking a data-driven creative approach to differentiate and improve customer experience.
Data-driven marketing campaigns use desired audience and customer data to inform and personalize creative campaigns content alongside look and feel to establish value and overcome objections for various audiences in different stages of the buying journey. Companies who consistently utilize data to inform their creative campaigns see faster time to revenue and increased return on investment.
In this post, we'll explain why taking the time to structure and plan a data-driven creative strategy enables higher performance metrics, what makes an effective data-driven creative campaign, and show an example of how our new creative studio partners at ShockMe worked to build and implement a powerful creative strategy enabling Jeep to exceed goals and expectations including: boost social mentions on digital 115% as well as increase positive mentions 86% with over 12 million impressions.
#1 Consumers expect brands to lead with personalized and authentic experiences
If not from you, then they will easily find it with your competitors instead. This means deeper more meaningful personalization is a requirement for businesses to compete today. Your content needs to inform for each stage of the buyers journey for each segment of audiences you address.
86% of consumers prefer an authentic and honest brand personality on social networks. (Smart Insights, 2017)
#2 Brand influencers have changed
Businesses no longer have the control they once did. The sales and marketing funnel is changing and customers are at the center. Their trust is shifting from businesses to friends, family and peers. It's about real people sharing their brand experiences.
81% of buyers trust their families' and friends' recommendations more than companies' business advice, and 55% report trusting the businesses they buy from less than they used to. 77% of consumers have shared positive experiences online.
#3 Data makes you agile and creativity puts you ahead of the game
In a Forrester Consulting study, experts shared that, "a combination of data and creativity is going to set the leaders apart from the laggards".
McKinsey found that one of the main benefits generated by creativity was speed. Firms that scored highest in creativity were ahead of the competition in part because they moved faster — in fact, 74% said they had to make decisions fast at some points, compared to only 40% of less successful firms.
#4 Data-driven campaigns will save you money, time and stress
Taking the time to build a deeper understanding of audience segments and then sharing data across teams with agreed upon outcomes eliminates confusion and improves consistency across all channels.
A recent survey by Content Marketing Institute and LinkedIn found:

68% of sales professionals say it's absolutely critical or very important to have a single view of the customer across departments/roles — yet only 17% of sales teams rate their single view of the customer capabilities as outstanding. - Salesforce
By focusing on personalizing for segments with data to creatively provide content that enhances conversations, increases brand awareness and trust, it puts your brand at top of mind when customers are looking to make a purchase. Additionally, it will reduce the time and effort sales teams waste to build their own sales communications tools.
McKinsey reports "The most creative companies employ two particular practices more than other firms: they regularly observe customers in the customers' own environments, and they understand the problems customers are seeking to solve through use of their products and services. Creative firms combine insights gained about customers' needs with technologies and new business models to come up with white-space solutions and distinctive marketing campaigns."