Your company's image is its brand, and so the brand becomes the embodiment of the features and benefits of the company itself. To lay a strong foundation communicating your company's value proposition internally and externally, you must ensure your brand foundation is solidly in place. In fact, according to Forbes, consistent brand presentation across all platforms increases revenue by up to 23%. By defining the key elements supporting your brand you can ensure your brand is well-positioned from others in the market.
Image Courtesy of Suwit Ritjaroon/Free Digital Photos.net


1. Brand Identity:
Your brand identity demonstrates who your company is, defines positioning, and creates competitive advantage. Brand elements include your name, tagline, logo, and design. Just as importantly, your brand identity includes your company's personality and its assets, which include: brand awareness, emotional connection, credibility, and purchase motivation. Altogether, your brand is the key to unifying behaviors, actions, and communications. Each of these components of brand identity play a strong role in communicating competitive advantages, product/services quality, competitive advantages, and operational efficiencies. A strong brand identity: resonates with all stakeholders, guides marketing, enables your sales force to sell more, and provides vision to your employees.
2. Brand Management:
Ensuring that your brand reflects the very best of your company requires planning support strategies. Strategies which support and build the brand include: promotions, marketing, advertising, outreach, social media and thought leadership. Additionally, brand management requires educating and training of internal personnel to ensure alignment of key messages delivered externally. By constantly monitoring and measuring brand awareness, as well as customer perceptions and loyalty, you can ensure that your brand is resonating with your target audience.
3. Brand Experience:
When people see your logo, read your tagline, or think about your company, the way they feel will be influenced by brand experience. A brand's experience for customers is built through a wide variety of methodology. The best methods for your brand are dependent on your target market and how you can best appeal to them. Certainly, every company's brand experience relies on the public perceptions, products & services themselves, as well as personal interactions with the company (which underscores why internal education is so important).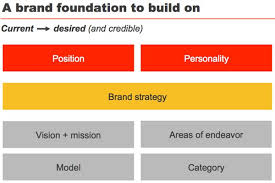 4. Brand Strategy:
A strong brand strategy is the process of pinpointing your brand's strongest attributes and integrating them into a unique value proposition. Brand strategy delivers on the VALUE the company has to offer its customers. Robust strategies include tactics for communicating brand promise with supporting messages that act as proof points. The creative elements and copy tone reinforce key messages, and give your brand depth and personality. The brand strategy clarifies how positioning in the market as well as the relationship with customers. For example, some business models call for high touch customer interactions while others do not. Your brand is at the heart of your overall business strategy, and requires in-depth understanding of your customer preferences and your competitors positioning. By deploying the brand strategy across the company, you successfully bring your unique value proposition to market.
5. Communicate Differentiation:
Your value proposition is unique, and for the best return on investment, you'll want to ensure your clients understand exactly how you differentiate your company from all the others. To create your company's unique value proposition, you'll want to develop a clear statement which captures the unique value your company, products, and services bring to your customers.
Robust and unique Value Propositions focus on differentiation. Focus on the critical dimension of value where your company's products and services excel. By drawing attention to your unique qualities, you will become the best choice for customers who need the unique advantages your company brings.
A solid, unique Value Proposition answers the question of why a customer should do business with your company and not someone else. Your Value Proposition statement hones in on the key reasons customers and prospects will buy the company's services and products. By appealing to the customer's strongest decision-making drivers with an authentic value-add, you are able to represent your brand and your Value Proposition in a way that gains the right attention from your target market.
Success depends on your ability to live up to the promise made through your company's unique Value Proposition. Done correctly, your Value Proposition will focus strategies and tactics to increase revenues and market share.
6. Defining Your Value Proposition:
Identify the unique value-add facets of your offering and the advantages that result from this value. Create a statement that is clear and concise. Your statement should be specific and developed with key target audiences in mind. Ensure that in each step of the development process you FOCUS ON THE CUSTOMER, and evaluate all forms of advantages you bring to your customers including: predictive value drivers (i.e. quality), image, price, convenience, safety, and time.
Be prepared to review, refine, rewrite, and rework your Value Proposition until it is well aligned with your overall brand identity. You'll want to find the words and talking points that resonate with your audience, and then stick with them – consistency drives results. It's not creative to make the same statement multiple ways. It's confusing. Once you develop your unique Value Proposition and the narrative that supports it, stick to it!