Many real estate agents have embraced the new digital era of real estate marketing. In fact, real estate transactions initially fell way off, but now have returned to pre-pandemic levels in most markets across the country. Virtual open homes and tours, digital brochures, interactive 3D experiences are just a few of the tools that agents have put into play so sellers can keep properties accessible for buyers. With all this justifiable focus on virtual digital tools, it's easy to forget about a proven tool that has time and time again proven its value – the real estate postcard!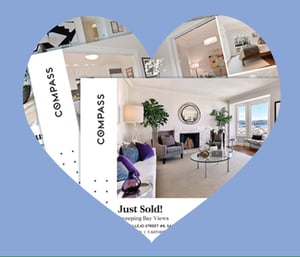 Yes, the postcard.
While virtual tools and social media are critical in today's environment, it's important to understand how postcards augment your market presence. Over time, this effective and affordable tool drives higher recognition, increased trust, and therefore, a higher likelihood that prospective clients will think of you when thinking of real estate. Keep in mind that people need on average need to be exposed to a message at least 8 times before they begin to absorb it. In fact, 74% of clients will give you a referral if you stay in touch.
Postcards are a perfect communication piece for increasing awareness and generating demand in three critical areas: Property Marketing, Personal Branding, and Geofarming.
Property Marketing
Property postcards are an easy way to let your sphere of clients know that you are in the game, playing hard and doing well. The "Coming Soon", "For Sale" and "Just Sold" postcards that go straight to the recycling bin provide tangible signals of your success. Recipients will naturally begin to associate you with real estate success and begin to show a preference for your expertise.
For property postcards to be most impactful, you'll want to showcase the property and its features while using consistent, recognizable branding on each piece. After a few exposures, people will begin to recognize your style and to compile information so they can make a decision. They'll likely only take a quick glance and the postcard, but it is their mindshare that we are after. As they walk to the recycle bin, they'll be thinking, "Oh here's another mailing from 'Samantha', she's already got that house on the market?" or "There's 'Samantha again. Wow, that sold!" It is the postcard's moment of glory and it works.
Personal Branding
Your personal brand is the image you project in the market and the reputation you build with potential clients and customers. Your personal brand reflects why you stand out from the crowd and how you differentiate yourself. In general, with real estate agent advertising the more effort you commit to building your brand, the less effort you'll have to spend 'selling' yourself.
With a strong brand, people will seek your services and expertise, already impressed by your qualifications to help them. The most effective content for personal branding postcards includes customer testimonials and success stories, in addition to featuring community support and connections with a little bit of personal information sprinkled in so people have a strong image of who you are, your standards and the expertise you offer. Postcards make it easy to tell your story in small vignettes that together reflect your market image.
Geofarming
By regularly sending postcards to specific geofarms, you can expand your reach and break into new areas. In fact, a geo-farm focused strategy often delivers an optimal return on investment, not only in terms of sales dollars but also in terms of market awareness.
The best geofarm content is a mix of:
Market stats
Success stories
Personal branding
This combination establishes both a professional standard for market expertise as well as a personal connection to who you are. When you focus on specific geographic areas, a mailing list is not even required. You simply need your defined real estate farm boundaries. With real estate postcard templates, you make your market where you want it to be.
When you focus on specific geographic areas, a mailing list is not even required.
Used strategically, postcards make a solid impact on their target audience. However, it is important to remember that optimal results will come from consistency. A single mailing will not have an effect. Exposure is the key, so expect it will take consistent mailings over a period of months to see your brand take hold. When this happens, you'll know it from your expanding market, a growing number of leads, and increasing sales.
If you'd like to learn more about how postcards can make a difference for your business and how to get the most from this strategy, schedule a free consultation with one of our marketing collaborators.