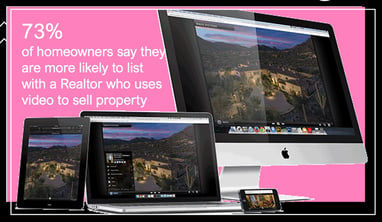 In today's real estate market, the virtual tour has quickly been established as a prerequisite in selling and marketing real estate online today and is recommended by the Association of Realtors®. Virtual tours go beyond what can be shown with text and still images while attracting more views and generating more activity for the home. Done creatively, virtual tours take a variety of forms and each one has strengths in creating a tangible home experience for prospective buyers.
No matter what form of virtual tour you use to showcase the home, real estate marketing professionals know it's all about focusing on the flow of the property. Improvements in imaging and streaming technology mean that video tours, interactive floorplans, and other exploratory tools are all easily accessible from a website. For this reason, photography, cinematography, aerial drone photography, and immersive 3D platforms are all common tools in today's real estate toolbox. Additionally, tools like Facebook Livestream, Zoom, and others make it possible to interact live and show a property virtually with live virtual open houses. By making it easy to interact with a home on many different levels, real estate agents allow prospective clients to create their own first-hand experience and personal connection.
To create a strong virtual tour strategy, consider the following top 3 best practices for your virtual tour strategy.
Make the Video Tour a Clear Step in the Home Buying Journey
Video and Interactive tours often keep prospective clients tuned in for much longer than photographs. As more time is invested in exploring the home, clients begin to feel invested and are, therefore, more likely to move forward in their journey. For this reason, it's critical that each video or interactive tour directs clients on what to do next and makes it easy to take the next step. In most cases, the best call to action is to suggest clients call or email with questions or even to recommend a personal virtual tour.
Leverage this Interactive Content Everywhere
Essentially a permanent open house, video, and interactive tours are accessible 24 hours a day and easily shared and saved. Further, they make it easier for clients to picture themselves in the home. To facilitate this connection, virtual tours provide a realistic experience and a personal connection. This is especially important given that 90% of buyers look for a new house online.
To optimize this connection to your client, make it convenient for them to find content where they want to see it – whether that's social media like Facebook and Instagram, real estate sites like Zillow, or even your own website or direct emails. Using short personal videos introducing clients to a property and directing them to virtual tours and open houses makes a measurable difference in everything from awareness of the property in the market to attendance at virtual open home tours.
Create your Personal Home Tours with Care
A myriad of companies provides professional home videos, photograph montages and 3D renderings. To augment the impact of these home profiles and take your connection to prospective buyers to the next level, add a personal touch with your own video.
Keep it simple and be yourself. Show the home just as you would if someone were there. It's easiest if someone else can just film you as you provide a quick walk-through. Top best practices include:
Ensure the house is looking it's best and clutter-free so people can see themselves living there.
Use décor to create a warm, welcoming ambiance while keeping it as neutral as possible so the design scheme is not a distraction.
Before you start, think about the path through the home that most people would take, and mimic this flow with your video tour. Think about where people might like to stop to see detail and features of the home and build this into your narrative.
Success in real estate online today necessitates incorporating expanded digital marketing strategies with standard real estate best practices. Virtual tours take a variety of forms and the more creative you become about how to use different kinds of virtual tours, the more successful you'll be in gaining market attention and the best possible offers for your buyers.
Cogo & Co is a boutique marketing agency helping clients get their sales and marketing ideas off the ground and running. If you'd like to talk about your approach to virtual tours and how to get the most from your efforts, schedule a free consultation with one of our marketing collaborators.