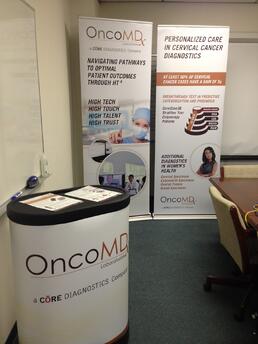 Whether you are a hospital-based program, commercial, or private organization, keep in mind that there are no open markets: Every one already has a provider for diagnostic testing and reporting. You are there to engage and persuade physicians, medical group directors or hospital administrators to change.
So, why should they change?
By understanding the process physicians take to change, you can outline a different approach to position more targeted messaging that resonates faster with the internal conversation already going on in their minds.
4 Ways to Improve Trade Show Sales Conversations


You've taken your current collateral and marketing tools to a couple of tradeshows recently, and you're just not getting the reaction you've gotten in the past… You're not alone: many marketers are facing similar difficulties. Here are 4 ways to improve your collateral without the need to start over from the beginning:
Situation: You feel that the existing branding and messaging on your large format graphic does not resonate as quickly with your physician segment and draw them in. A few tips you can use to amplify your current collateral are:
1. Add a standing banner with keywords to catch physician's attention

A single key point and image which address and align physicians' business/patient care decisions will add more value by inspiring targeted conversations faster.
2. Update the graphics on hardware you already have in order to hone targeting while minimizing costs

Almost all tradeshow booths and podiums are made with replaceable graphics and murals. New images, copy, and a potentially new arrangement of hardware on your rental space can make your tradeshow budget go farther in a short amount of time.
3. Evaluate your collateral's effectiveness as sales tools that will help close the deal

Does your sales team feel your collateral is relevant to conversations, and use it as visual reinforcement of buying motivators for physicians? Re-write copy to include key messaging, and incorporate new visual aids that your sales team knows will work and highlights benefits that customers are looking for. Be sure to include any URLs for follow-up tools, resources, and engagement as a takeaway.
Situation: You feel that you can be getting more marketing qualified leads (MQLs) in your pipeline, but lose momentum two months after attending. Keep in mind that 60% of a customer's buying decision is made prior to contacting a sales representative. In order to boost your MQLs and keep them engaged after your tradeshow, you can:
4. Put together a three-part communication campaign using all channels to reach the physicians you are targeting:

Direct email or postcards for customers and prospects announcing your attendance and value to them, industry and region.



Invite them to sign up to a webinar prior to the conference, invite them to an invitation only dinner prior to and/or view a blog post regarding industry and professional trends with benefits your organization brings.


A single web page within your company site promoting the event and your participation. Use this as an opportunity to engage and convert visitors through targeted keywords. If done with long term goals in mind this section of your website can have a continuous impact on traffic, conversion and SEO of your website.



Include relevant and valuable information benefiting your segments business objectives, professional development, patient safety and quality, technology, healthcare reform implementation, reimbursements.

Include calls to action and links to offers you have published such as white papers, guides, videos, studies, reports and medical journals.


Write and publish blog posts

reporting on the event itself, turnout, keynote speakers, industry takeaways. Add these blog links to the email communications that are sent as follow-up.
Minimize costs - There's no need to start from scratch. Update messaging and visual aids first to focus on your target persona. Their wants and needs change over time, so you must adapt your tools to meet their needs. This will facilitate your conversations, and help them make the decision to change to or add your company to their list of providers.